Heya
First and last topic im afraid , i inherited these guns by way of a death in the family.
I played airsoft with my brother a few time using these guns but never seriously , i had all good intentions of getting into gaming , but many many things are getting in the way, and having been now informed about the laws regarding ownership of these and not being a member of a local club i really think i need to shift these on asap.
First a
Tokyo mauri M3 super 90 in it box and never used , it comes with 7 shells holding 30 balls each , 10 shots it fires 3 at a time , it all apperes to be there in the box and in great condition
having done a bit of research im asking £100 for the gun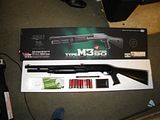 secondly a
Tanaka works M700 police in camo colours with scope , ive never fired this gun as ive never been able to gss it up so all i know is i saw my brother using it alot (was shot by it many times!) comes with a pack of i seem to remember teflon coated balls, the scope is in great working condition , can see the washing instruction labels of the clothes hanging up on nextdoor's washing line.
again after some research im asking £250 for it as is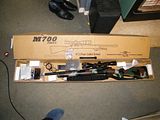 thirdly a tokyo mauri AEG M14
this gun come with 3 mags , but im afraid no battery , well the battery thats with it is toally fudged and lasts about 2-3 mins before its totally flat so a new batt will be needed. I have However powered the battery with one of my RC car batts and it does fire and seem to work well. It also comes with a quick loader.
looking for £200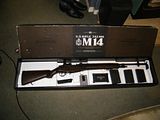 Forth
a tokyo mauri P90TR with silencer
Its in great condition having never been used in battle, comes with original mag and two high cap mags , again the battery is dead as a dodo but the gun fires using the same rc batt i used on the m14 and fires and works
im asking £100 for this gun
last is a tokyo mauri gas blowback glock 26
as with the M700 i have not fired it but have seen it being fired , normally from the wrong end shortly followed by a sharp pain , but it all soome to function freely and easily. also i cannot find the other half of the box just the top annoyingly.
im asking 50quid for this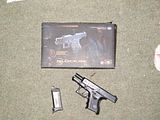 Now im aware that not knowing about these guns at all means that the prices could be way over the top so im open to offers. Also none of the prices include any postage , id rather not have to post anything out and collection from peterborough (pe3) would be preffered but if postage is required i can sort summit out with dhl
Oh and lastly i have a lod of BB i dont need either , i want 30quid posted out for all the ones in the pic. They have never been used.
Best way to contact me is email me on hdnumber8@gmail.com
Thank u
Oll