Make: Pointman Gear -
http://www.pointmangear.com/index.php
Model: Temperate DPM
Accessories: Pouches available, details below
Condition: Some new, some skirmished once
Splits/Swaps/Part Exchange: None, thanks
Price/Payment: £30 delivered all in
Pictures: See below
Right, got a bit of clearing out to do, so my DPM MOLLE gear is up for grabs.
To start off, here's the vest:
It's extremely simple, massive range of size adjustment and insanely lightweight. About the most MOLLE real estate you'll find with any kind of LBV.
Skirmished it once and this is easily one of the most skirmish practical rigs I've used, only clearing it out since it doesn't fit in with the look of the other gear I'm running these days, if they made it in anything other than DPM I'd be all over another one.
I would point out this this is a 'factory second'. All that means is they've use all the usual materials and those are just fine, all that's happened is the machine that put it together went a bit off spec in a few areas. All pouches will still fit wherever you want to put them, just the some of rows of stitching on the MOLLE loops are a bit off their correct positions. One short strap is missing across on of the shoulders (that you'd never have used anyway) and I've given it a check over since I skirmished it, everything else looks to be just fine.
Pouches:
Half of these haven't been any further than my garden. You have the following in the set:
4 x double/triple rifle mags
2 x med/lg GP pouches
Triple 40mm
Double HE grenade
Smoke grenade/radio
Hyradtion carrier (will fit a 3L no problem)
None of the designs are modern or fancy, but it all works. The materials are solid, the pattern is nicely printed and the MOLLE attachments straps are very well thought out.
Pretty much every single skirmisher out there will find there's more than enough space and flexibility to carry anything and everything they might want using this set of gear. Huge amount of room for customisation to run things exactly how you want them, and of course super easy to change it up later one when you get more experience.
Here's me in game using some of this stuff about 2 years ago, to give you a rough idea of the look of it when worn: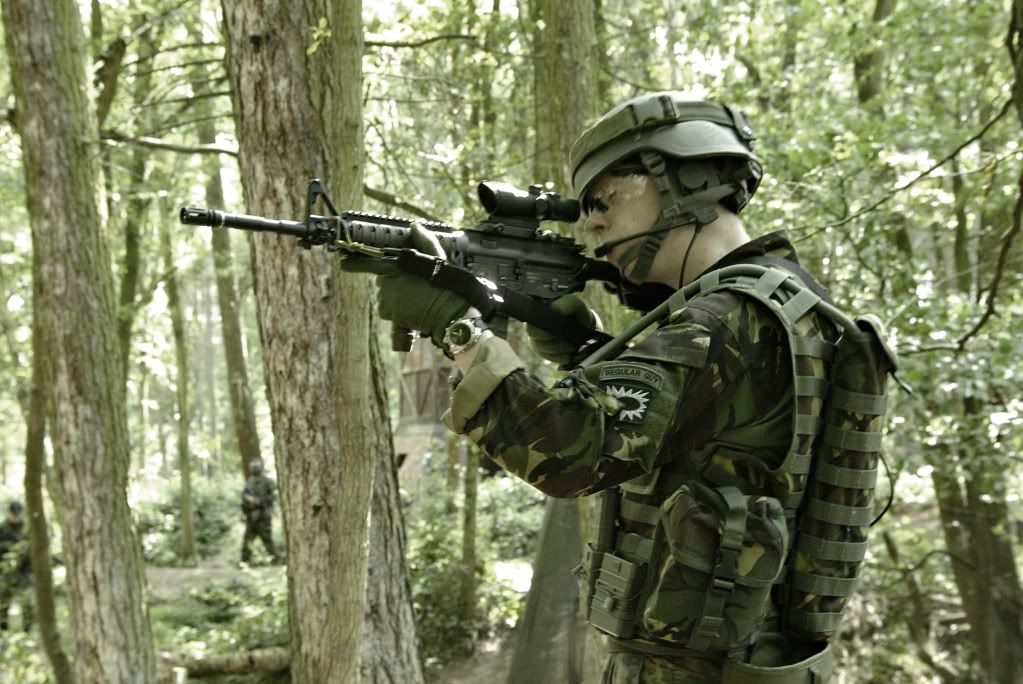 I'll accept paypal, bank transfer or cash (at the sender's risk). Paypal is preferred though. Any questions or enquiries please do ask in this thread or drop me a PM. I'm not going to give prices for individual items for now as I would
far
rather this all went to one person, certainly if you're just starting out and want to upgrade from a cheap vest with fixed pouches, you'd take a big step forward with this lot.