Advanced Armament Corp. M4-2000 Suppressor with Blackout 51T 3-Prong Flash Hider by Magpul PTS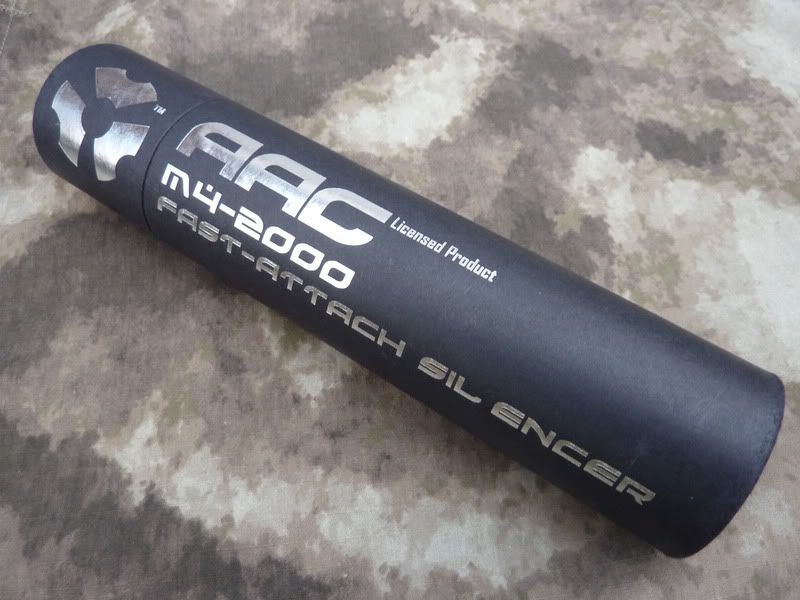 Suppressors in airsoft are, it has to be said right off, very much a superfluous accessory with little practical function. The majority of players out there use AEGs from which most of the firing sound is generated by the gearbox. Adding an accessory like this one to your rifle will only have a small effect on the audible report of the compressed air leaving the end of your barrel. With that said, a suppressor with an actual foam lining such as this one can somewhat alter the noise your weapon makes when firing, and if your gearbox is running smoothly it can make it that little bit more difficult for the opposition to identify your position, though this is also partially dependant on various environmental factors.
Practicality aside however, airsoft is (for many people) largely about recreating real life combat and in the real world, combatants do use suppressors to great effect. Ergo, attaching one to your airsoft weapon can greatly enhance it's aesthetics, depending on each individual's tastes of course. There's certainly a market for these items within the airsoft community, otherwise you wouldn't see them on forums and on the field, and manufacturers wouldn't be producing them.
Magpul PTS have in the past produced a slightly different line of suppressors (some in sets with flash hiders) but to my knowledge those older versions are now entirely dis-continued and they have began distribution of a new line of officially licensed AAC suppressor replicas.
There are currently two models available from PTS, namely the SPR/M4 which is a longer, DMR styled can, and the M4-2000 which is more styled for carbine/SMG usage and what I will be reviewing here. Both are available in Black or Dark earth and both come with an appropriate flash hider which is used to mount the suppressor. The included hiders are available in 14mm positive or negative threading, making a total of 8 package options to choose from, giving the end user the ability to select exactly what they want and to tailor the items to their personal environment and weapon system.
Packaging
Normally with an airsoft product this would consist of a plastic bag sealed at the top with a folded over piece of cardboard, but PTS and AAC it seems were not happy with anything but the best when it came to wrapping up their new product, as you can see from the top image.
I was expecting the usual PTS naked cardboard with orange accents when I opened the package that contained this suppressor, what I was greeted with however is a very solid cardboard tube much like the ones used to house the Masada/ACR after-market 11.5" barrel sets. The black finish with reflective silver graphics certainly rates very highly on my own Gucci scale.
What actually matters of course, is how this housing is going to protect your investment during transit, because this is not a low budget accessory by any means. I am pleased to report however, that as I was on my way outside to take the photos for this review, I managed to drop the tube (with everything inside) right on to granite slabs from over 4 feet up, and the fall didn't even manage to penetrate the surface finish let alone damage the contents, so thumbs up all around there.
As you can see, the tube itself is lined with bubble wrap and the 51T comes inside it's own little bubble wrap package, so there's no worries about your purchase reaching you from safely from the far east.
51T Blackout Flash Hider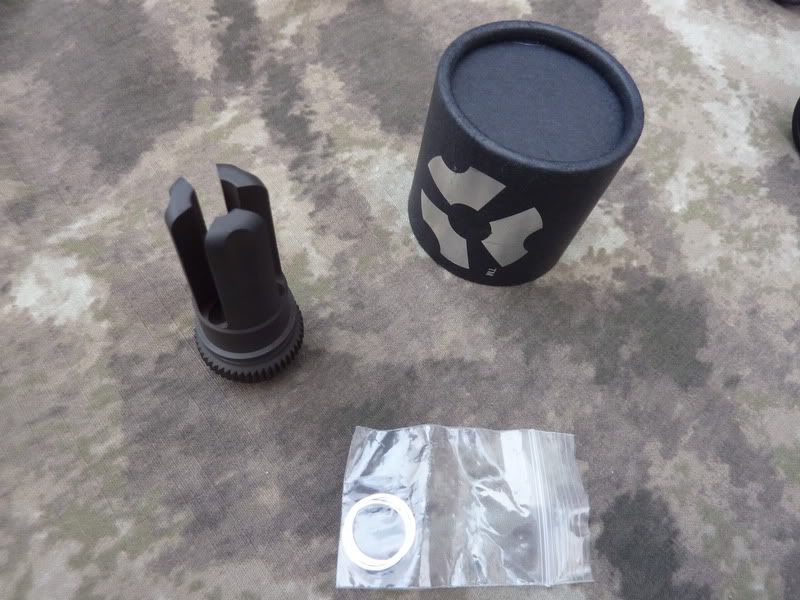 Specifications:
Weight:
4oz / 115g
Length:
2.5 inches / 63.5mm
Thread Size:
M14 x 1 (Clockwise in my case)
Material:
Steel Alloy
Surface Finish:
Heat Treated Coating
Mount:
Ratchet mounting features on the exterior for attachment of the Suppressor itself
The first thing I noticed when I picked up the 51T was the weight of it, they weren't kidding when they said it's made of steel. I don't believe this has been CNC'd however the overall forming and general appearance of the shape of the hider is excellent. All the edges are neat and sharp, the ratchet notches are crisply done as is the suppressor thread, and the 'PAT PEND.' trades are engraved both deeply and very neatly. The thread that interacts with the barrel is of course immaculate and works flawlessly.
The finish is a flat, smooth dark grey which has been expertly applied and I think it's going to be quite resilient to knocks and scratches. Overall, if you didn't know better, you'd be pushed to tell this hider from a real one on initial inspection.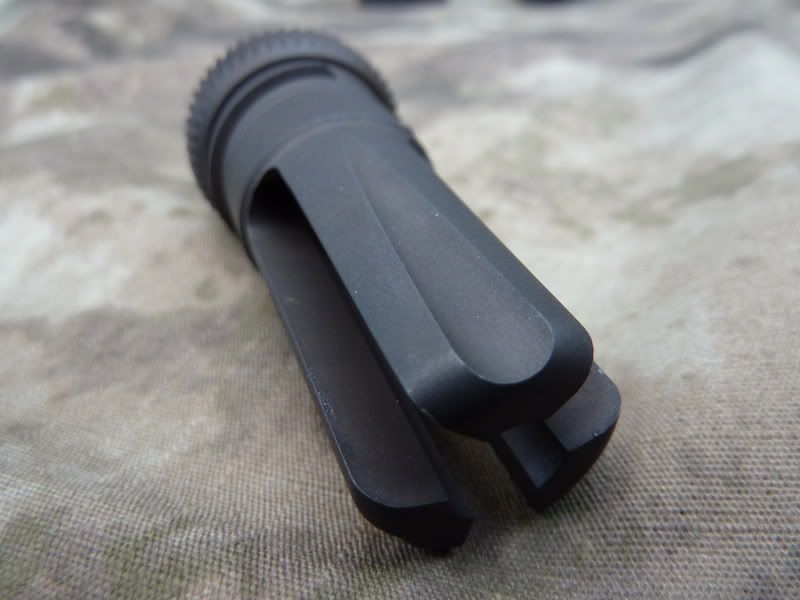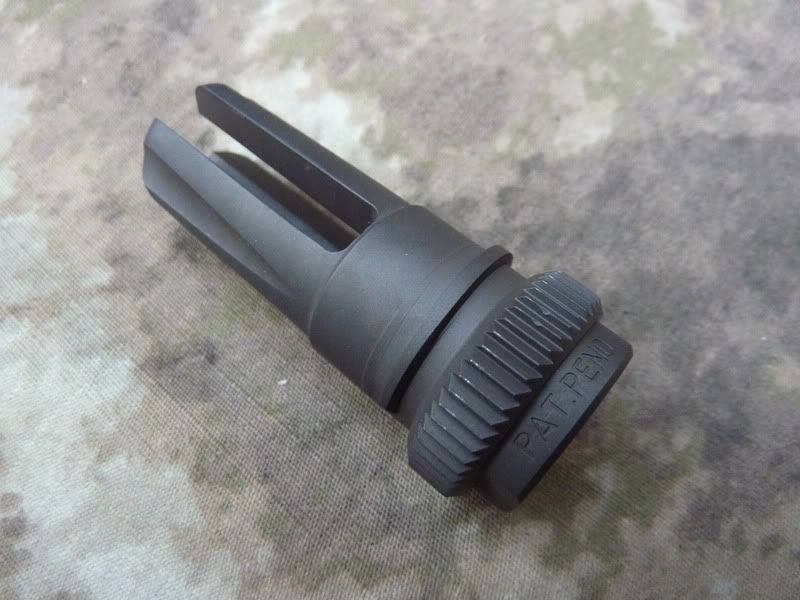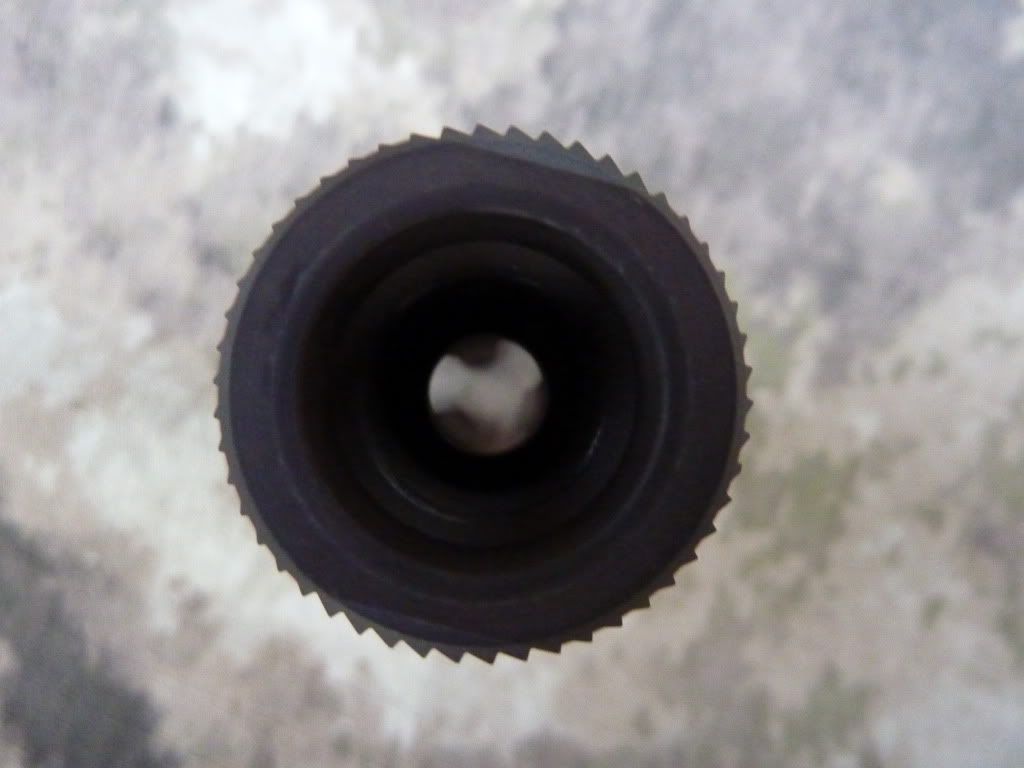 One of the few faults I've found with this overall package is that this hider doesn't mount properly to the ACR CQB barrel set if you remove the aluminium collar which usually shrouds the rubber o-ring found behind the thread on the end of said barrel. Due to the design of this FH, the ratchet grooves will impact on the adjustment dial for the gas piston before it can be fully screwed in to place. However, this is such a small and specific issue that I struggle to class it as an actual fault at all frankly. With the collar fitted, it mounts on to my CQB barrel set absolutely fine.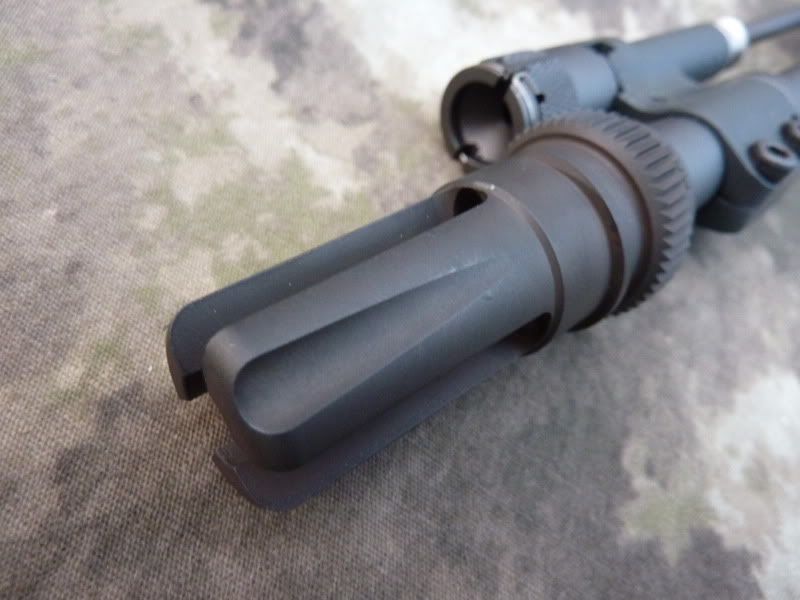 The AAC M4-2000 Suppressor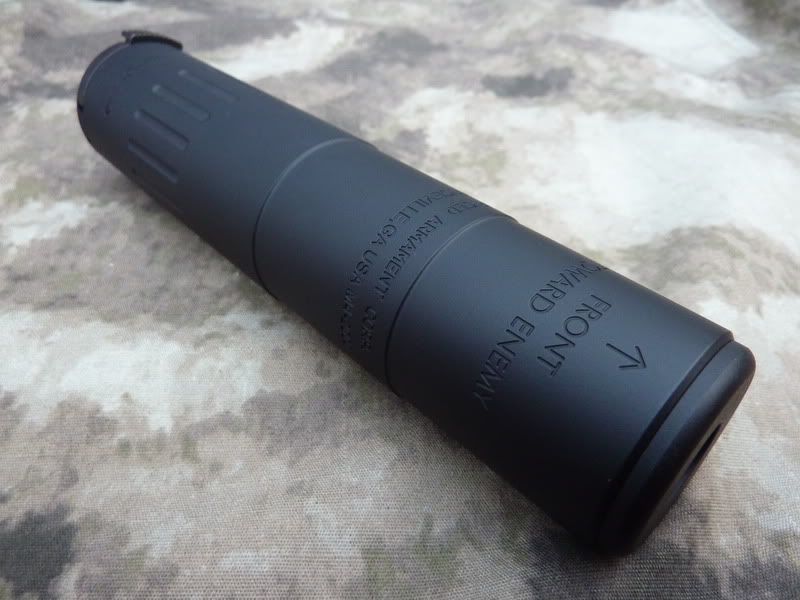 Specifications:
Weight:
9.1oz / 259g
Length:
6.6 inches / 168.2mm
Diameter:
1.5 inches / 38.1mm
Material:
6061 T6 Aluminium
Surface Finish:
HA II Black Coating
Mount:
Internal ratchet securing system for mounting the suppressor to the 51T
Yet again, as with the flash hider, you pick up this suppressor and it feels very much like you've got a real firearm accessory in your hand. It's heavy enough to not seem like a toy, without feeling like you'll need to hit the weights bay for a month just to be able to skirmish for a day with this thing mounted on the end of your muzzle.
The metal work is beautifully done with yet more clean edges, deeply engraved trade marks and as expected all the parts fit together perfectly. The matte black finish is very kind on the eye and gives the impression it'll take a few knocks without chipping and flaking away like some cheap chinese paint. It is a slight shame about the rather bright white 'Airsoft Only' wording they've put on there but that is sadly a necessary evil with these officially licensed products. Fortunately, it's not too noticeable when you're not looking closely, it's certainly not going to give away your position on the skirmish field anyway.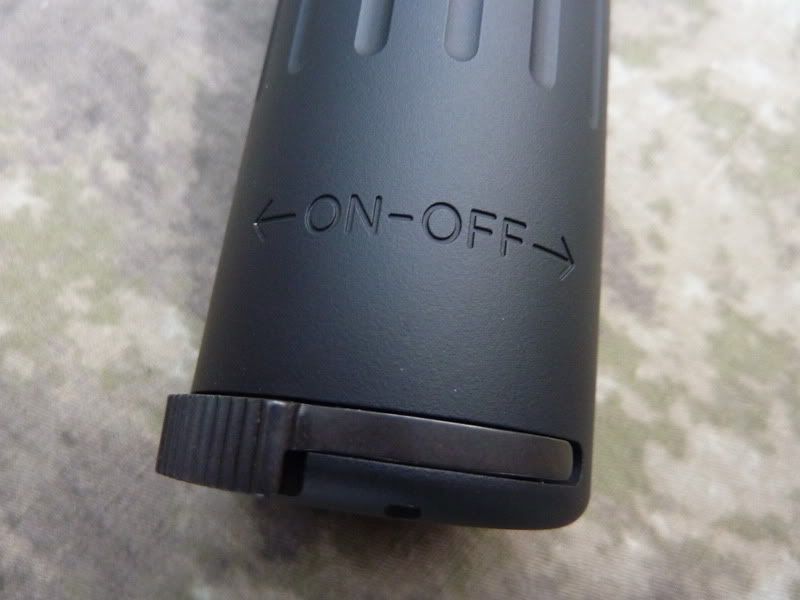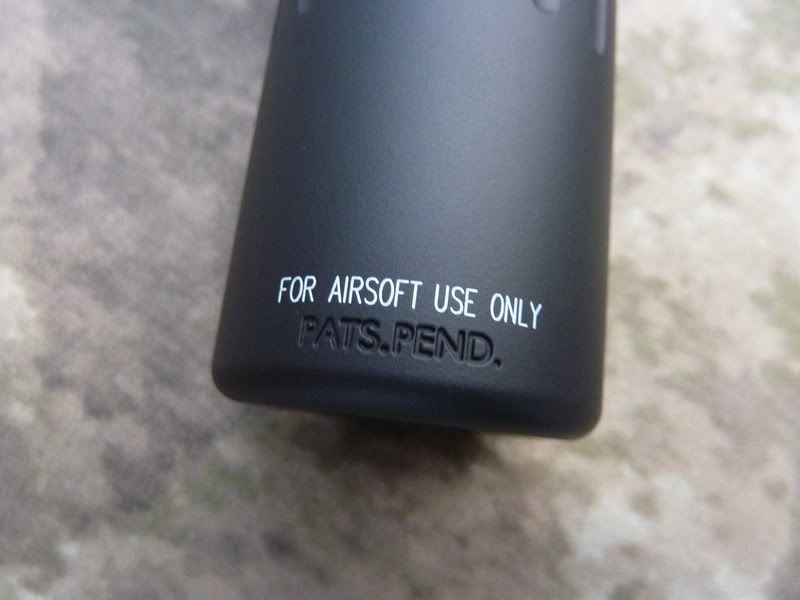 It does indeed feature a foam lining so I'm not sure what the legality of this is for some U.S. based airsofters, but either way it's certainly good to see, because it does mean this is not just a useless weight on the end of your weapon that's only good for photo ops. I'm not sure why they decided to go with the wire coil down the centre of the foam, perhaps it's there to protect the lining from BB hits while still enabling the air pressure to be somewhat dissipated by the material. Either way, it's all very quick and easy to access and held together nicely.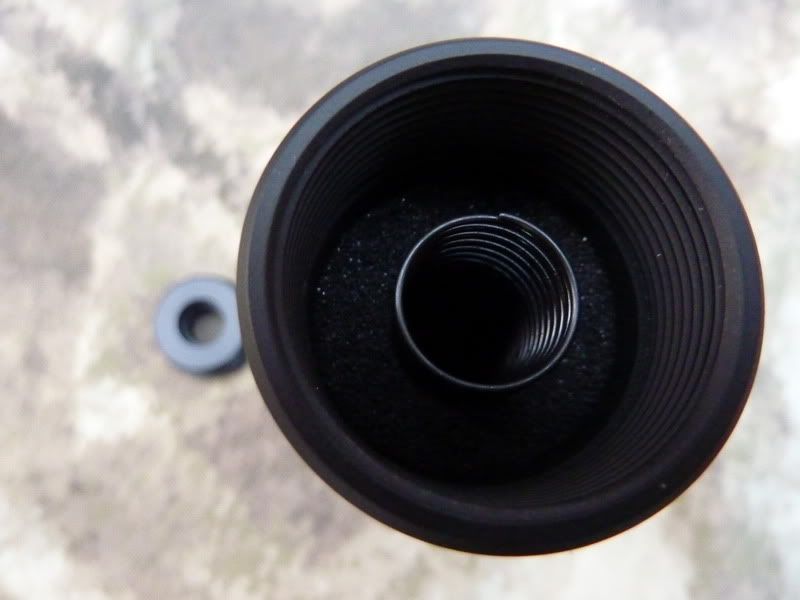 The actual deployment and removal of this suppressor is as quick and easy as one could hope for. The very short screw thread only requires a quick twist to get everything fully locked in to place, and you don't have to worry about it unscrewing itself during play because the ratchet system takes care of that. Once attached, the can itself is entirely solid with no slop, rattle or wobbling about the flash hider and removal is just as quick and easy as deployment. Simply press down on the spring loaded tab to disengage the two teeth from the grooves on the hider, a quick twist and you're clear.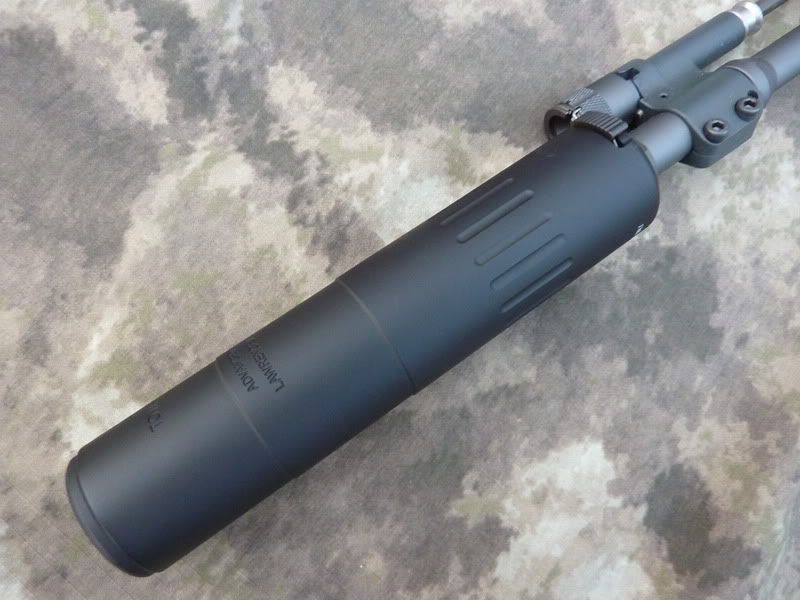 Overall score? I never dole out perfect 10 out of 10s, but given how hard I've had to work to really find any detractors to these items, I'd quite happily slap a 9.5 on them.
The relatively high cost to effectiveness ratio with regards to skirmishing will be a major issue for some, but this sort of thing really does depend on your preferences and priorities. If you're all about green fees, petrol bills and replacing the boots you're wearing out from gaming 10 times a month then this isn't so likely to be the product for you, but there's no denying that PTS have done a top class job in producing extremely high quality replicas of the AAC products.