Large Peli Case (1660) in Olive Drab, Good Condition
Ideal for Weapon Transport, to keep them safe and secure in all conditions.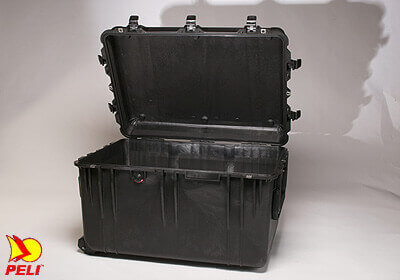 I am selling a large Peli Case (model number 1660). This is the biggest box Peli sell and it retails new at over £400. I am looking for around £160.
The case is painted in my own Olive Drab scheme, not the solid olive paint job that Peli offer. My own scheme varies in thickness of coats and leaves some of the black in view, making it more 'camo' than green, but in a very pleasant way. I will soon post photos to show this, as for now I only have stock photos from Peli's site. It is painted with Plasti-Kote plastics paint which Peli verify is safe for use with their cases and won't affect the integrity of the plastic of the case. Of course, you may prefer a black case. I have found that Bathroom cleaning wipes are effective (when combined with some elbow grease) at removing Plasti-Kote paint from plastic surfaces. The top of the case is quite a light shade of olive due to having many layers (it spent part of it's life in the Middle East where light surfaces do not get as hot as dark ones, so I coated the top in a very light layer), this would make it ideal for spraying a team graphic onto the lid for identification. The lid also features a metal identification dish, allowing you to slot in a piece of paper / card into the waterproof pouch, with your info on should the case go missing or anything.
For those of you who aren't familiar with Peli cases, they are literally the world leaders in tough cases. These things are indestructible. The US military uses Peli cases extensively to store their weapons and equipment in transit. The cases are not only tough, but 100% waterproof due to a neoprene 'o-ring' seal throughout the opening of the case, ensuring the tongue-and-groove closing is completely tight. There is a membrane port on the side so that if you are flying or diving with the case, pressure can be let in / out safely without damage to the case or it's contents. Peli are so confident in their cases that they offer an unconditional warranty - if you manage to break it, they will repair or replace it like for like with no quibble or hidden catches.
Unfortunately this case will not accommodate full length rifles or support weapons. But it will easily accommodate a solid-stock MP5, and if packed properly will accommodate an M4 Carbine with the stock collapsed. Anything smaller - easy. You will need to make your own foam layers for storing the weapons in, but if you do so, you will be able to stack 4-5, maybe 6 weapons into the case and still have excellent padding on all sides. Each 'layer' should also leave space for you to pack a few magazines, pistol, etc; so each member of your team should be able to take a 'layer' in the box to themselves. The exact number of course, depends on which weapons you have. I have listed the dimensions below so you can judge yourself. I can give you some help on how to make good moulds for the weapons and where to find materials if you need it.
The case has a pull-out handle (like you get on luggage bags) and wheels on the base. These are as indestructable as the case, they are solid rubber with steel ball bearings and are houses in a tough plastic outer, protecting them from damage. It also has 2 large handles, one at each end of the case, allowing for easy lifting into the boot of your car or whatever. The case is secured shut by 7 'double latches', which are very strong secure and also protected from damage by the shape of the case.
At present the case is split in 2 inside, with a divider down the middle. One half is packed with high density foam to protect kit, the other is bare plastic (I had rope in it, no need for padding). There is also a foam tray in the top with a few compartments allowing you to put odd bits and bobs in the top of the case, for easy access in a rush. Obviously, all this foam is removable (secured only with spray glue) so you are free to re-arrange it as you wish. I can direct you to good sources for replacement foam, or of course you can buy it from Peli themselves. They also offer pre-made dividers for the case, and a 'lid organiser' which puts mesh pockets inside the lid for stowage of smaller items.
The case also has 2 padlock lugs fitted into the moulding of the case, meaning the lugs could not be cut off for access to the case. The padlock would have to be broken. This is an ideal way to keep your investments secure on site if out of your sight just for a moment, or just knowing they haven't been tampered with.
I know that some of you spend a serious amount of money on your weapons, and how important it is that when you arrive on site your weapons are fully functioning and free from damage. This Peli case offers an excellent way to transport a whole teams' weapons, magazines, batteries from site to site safely and securely. Even in torrential rain, snow, whatever you'll be able to drag this around and keep your kit in perfect condition. It should actively lengthen the service of the kit inside it and ensure you can turn up every weekend knowing that your guns haven't picked up any damage. It would also make a great purchase for any team in US forces load out, as the case can form an active part of your look.
I am looking for £160, I will post pictures of the actual case soon. For now I have attached some basic pictures from Peli's website, and a link to the case on the UK's main supplier of Peli cases.
[u]Dimensions (in mm)
:
External Dimensions
L:800 W:581 D:479
Internal Dimensions
L:740 W:525 D:448
Depth Split
Lid of Case:89 Case Body:359
Empty Weight
: 15.42kg.
Official Website:
http://www.peli.com/...uedas-1660.html
I would prefer collection from South Oxfordshire, but I could meet in London at a cost. Alternatively you can arrange a courier to come and get it from me. I expect it'll be about £20, but it may be more. For enquires etc just send me a private message on here. Cheers!