This is going to sway far far away from the usual joviality most people have probably come to expect from a Finius thread, but so is life.
Tonight during dinner I was explaining to my mother that some people are capable of truly superhuman acts under certain circumstances (this stemmed from a discussion about mothers being able to do extraordinary things to save their children), referring specifically to the Monk who set himself alight in Saigon in 1963 in protest of the persecution against Buddhism being exhibited in South Vietnam.
She'd never seen the photo, so I went on an online journey to find it, and it got me looking at a few photography websites. I found some very potent images, many of which I'd seen before and it's reminded me why I first wanted a camera; because it's so true that a picture can say a thousand words, words which often the most skilled journalist wouldn't be able to put together.
Some of these images speak to me in great depth, so I thought I'd post them here so people can see them for themselves and discuss etc.
I'll only provide some basic background to each photo, none of my own opinion as I'd like to see what people think these photographs capture and signify before I add my own ideas. I'm going to add five photos initially but will add more if people are interested. Feel free to add your own.
A couple are often found as being called "disturbing", Dev has fixed spoiler tags, so I've added them in where images are particularly controversial (i.e. they display an image of an identifiable person in death or similar).
First up, the photo I was looking for; a Vietnamese Buddhist monk commits suicide by self immolation in the middle of a busy road to protest persecution by the South Vietnamese government. Saigon, 1963. By all accounts that I have ever read (and found to be reputable), he didn't flinch, scream or even move a muscle from the second he assumed that position.
Second. A black Georgia State Trooper smiling at a white child dressed in KKK garb at a KKK rally. The year here is also supposed to be 1963, but I have been unable to clarify.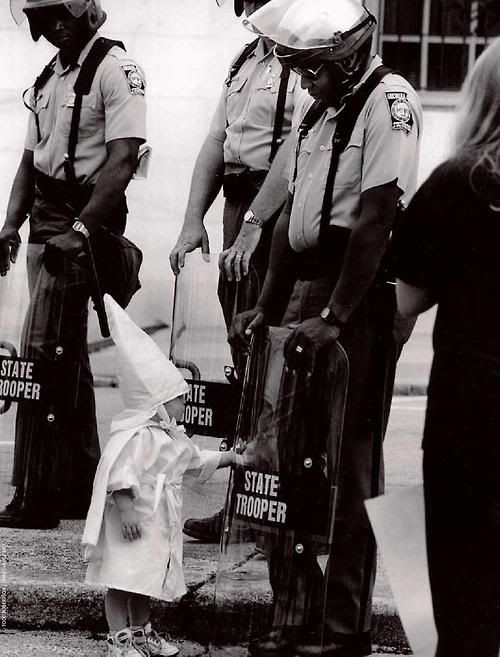 Thirdly, a photojournalist stops to photograph a starving child in Sudan, 1993. It is presumed the child's mother had left the child in order to seek food. The child is likely near death and vultures have already picked up on this. The journalist did not offer aid to the child (as per his instructions). He returned a short while later to see if the child was still there, but found no-one. He killed himself a short time later, his suicide note stated that putting his career before the life of another was such a crime that he did not feel he deserved life (story disputed, generally held to be accurate by sources including the National Geographic).
Number four is a visual record of the single most terrible weapon ever created by men, the Atom Bomb. August the 6th, 1945, Hiroshima. The mushroom cloud that rose above the city shortly after the detonation of the bomb.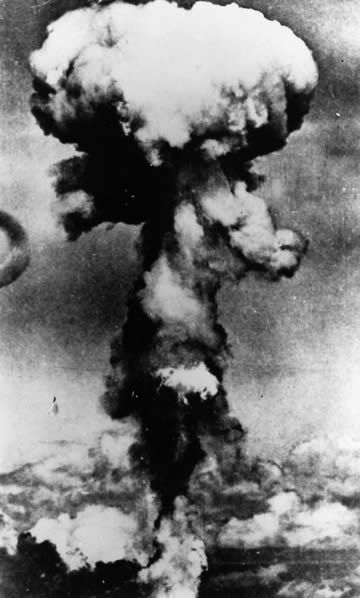 Finally, for now, number five. A man jumps from the burning north world trade centre tower on September the 11th 2001. At the height from which he jumped, there would have been no chance of survival, it is widely believed he would have known this, but preferred to end his own life than to have it taken from him, or that he simply thought it a more pleasant and dignified option than remaining in the tower. I am told his body was never located, I believe this to be quite likely.
Thank you for reading, I genuinely hope this prompts some good discussion.