Hi guys!
I'm totally new to this forum (first post), but certainly not new to airsofting. I've been playing on and off for about 10 years now, and have been using pretty much the same kit the whole time. Now, over the last year or so I've been considering a new outfit/loadout to create a fresh look, and after looking for a long time I've decided to go for something that's got that 'merc' feel to it.
Anyway, I've been looking for inspiration for a while now (Ai 'Wannabe' articles, movies etc) and the other night watched the latest A-Team movie. There is a event in this film that has the team stealing a container in Bahgdad, and I noticed that 'Face' has a great combination of kit. So, after seeing this I decided to do some research and found the following pic: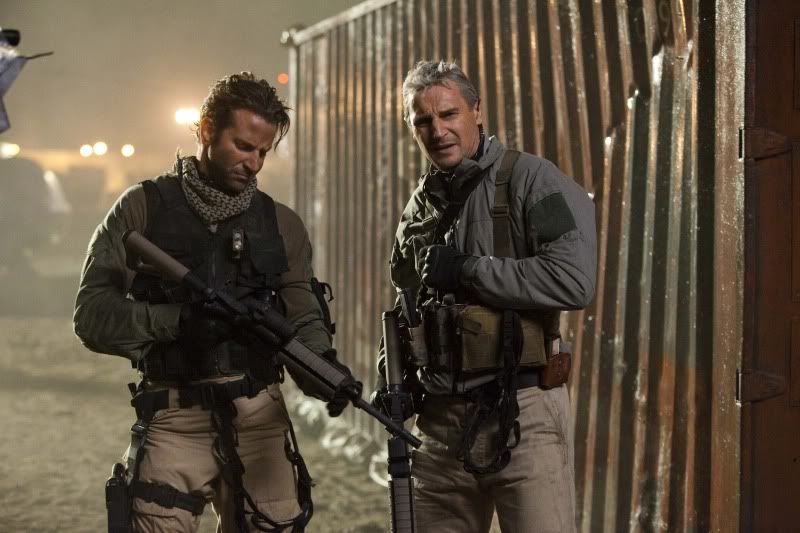 The kit in question is on the left (Lt. 'Faceman' Peck - Bradley Cooper). Just for your info (for those that haven't seen the film or know who it is) the character on the right is Col. 'Hannibal' Smith (Liam Neeson).
Now, Faces' kit I think is what I want to go for next, and I've been trawling the internet to see what I can find, but I seem to of come to a dead-end. So, hence why I decided to join this forum as you guys seem to be great at helping people for finding kit!
Can you guys help me out? I'm after the following:
- The top (Olive Drab by the look of it)
- The shemagh (although I have found various suppliers of this already...just not sure which colour that is in the pic?)
- and most importantly the black vest he is wearing. Not been able to figure out what this is though!
I've decided against the beige trousers as I feel these are more suitable for an urban and desert environment and I currently play woodland at Phoenix Airsoft. They look like Emerson CP Gen 2 style though. I'm thinking Multicam as an alternative unless you guys can suggest something else?
I am also after suitable slings etc. I currently own a Classic Army M4 CQBR which i'm looking to kit out with Magpul Forest Green kit, and also a TM H&K USP AEP. I currently have a Blackhawk CQC Serpa holster for the USP. Wanting the pistol to be mounted on the vest, but not sure if it can be done using the holster I have.
Anything you guys can do to help with this stuff would be great!
If you guys need to know anything, then by all means let me know.
Thanks in advance!