Okay, I know that nutster has an SBS loadout but I thought I would post up my SBS Taliban Hunter kit. Used it at GMA this weekend and was very happy with it. Its pretty cheap to put together (Under £100 not including boots, gloves and eyewear).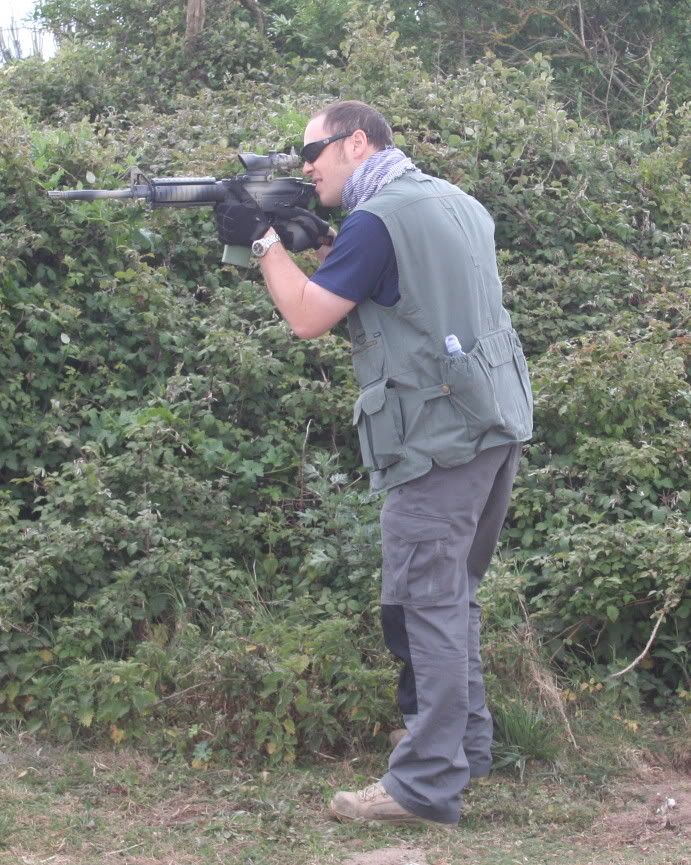 The idea/loadout is broadly based on the pics of the SBS that fought at Qala-i-langa and the early part of the war on terror in Afghan. It is extremely comfortable (the vest is a dream) and lightweight. All my advice is simply that, just advice. I am NO expert on any of this
Kit List:
Clothing
I used an old North Face tee and Craghopper walking trousers but any modern walking gear could be used. There are plenty of pics of guys wearing DPM and DDPM mixed in with walking gear too. Obviously the more camo you wear the less you can blend in with the local populace. In winter I will wear a navy North Face fleece with this.
The neck scarf is a genuine Afghan scarf, and is a better option than an 'Arabic' shemagh for obvious reasons. However these could be used in a pinch.
Headwear is easy too, although I didnt play in any, I have and have used (and seen pics of SBS) wearing DPM/DDPM boonies, Baseball caps and Pakols. Any of these would be an option.
Loadbearing
I have used an OD 5.11 vest (The SBS use SIG TAC vests apparently but they are very hard too source), and am carrying water bottle, radio and mike, 4x 120rd Midcaps, BFG, 2x bandages and P226 mag. I got this second hand but you need to be aware that they cost about £70 (and they come up very big).
As an alternative you could use DPM PLCE, as there are plenty of pics (more so than the guys in Sig Tac Vests) of guys wearing ths gear. At a push you could wear a RAV vest but I have not seen any in pics from Afghan (More SAS in Iraq) and thus would suggest not to wear one. A good set of used PLCE should set you back no more than £30. (You want to used and sun bleached for more authenticity).
Weapons
For the main you have a choice of three guns: GPMG, M249 SAW Para or a Diemaco SFW. Nobody currently makes any of the three guns in the exact configuration so you will need to modify existing models or just get the following alternatives.
Star/Ares I think are bringing out an FN that is similar to the GPMG, loads of companies make a M249 SAW but you should get the para stocked version and you will need a full RIS M4.
For my L119A1 I used an ICS M4 but have added a correct outer barrel, grip, front end, old style stock and butt plate. I have also put on a ACOG. Sadly I couldnt get a PEQ-2 battery box which is more correct for the era of Qala-i-langa) so I used my PEQ15 box instead (not too much of a problem as I beleive these are issued now instead of PEQ2s). At this stage it hasnt been painted but it will be shortly.
As a sidearm I have a TM Sig P226R with a full Guarder kit on it mounted in a SERPA belt mount although it cant be seen as it is hidden by the vest. Use any P226, P228, P229 or Browning as I beleive they have all been issued or are in use at this time.
Hope you all found that interesting and if you have any questions just let me know.
Nell