Accessory/ reproduction: Repro SBS Falklands Chest Rigs
Condition: New
Size: NA
Splits/Swaps/Part Exchange: no/no/no
Price/Payment: £22
Pictures
Hi Folks,
Here we have 2 Repro SBS Falklands Chest Rigs. Being Falklands SBS/SAS obsessed & after years of searching & waiting for some company to make them, i decided to have them made myself. Just as a way of background to these Chest Rigs- according to Duncan Falconer who wrote the book
SBS First Into Action
the SBS took the chest rigs from dead/captured Argentines as they were deemed to be more practical & functional than some of the webbing they carried. They then took these chest rigs & had one of the ships tailors of the Task Force run up some copies-so the real ones were field made (albeit at sea!). Despite what you may hear & what some guys on ebay would have you believe, Arktis chest rigs were NOT around at the time of the Falklands- i actually contacted them to confirm this. Which makes sense as if they were, the SBS wouldnt have to have chest rigs made.
These Chest Rigs are designed from the two references which exist.
Chest Rig 1
is taken from the well known picture of an SBS guy in the falklands found in many SAS books (see below).
Chest Rig 2
is taken from pictures found in Hugh McManners book
Falklands Commando
. if you look at the 2002 edition with colour pics youll see a guy from 3 SBS with this very same design. As these were field made, they would be very eclectic between each guys requirements. Hence, why i have gone along with both designs.
I have tried to keep these Chest Rigs as faithful to the real ones as possible interms of the design & the 'field made' aspect, although chances are mine are better constructed! They are very lightweight in construction & are cracking to run around in!!! Both Chest Rigs have 5 mag pouches each capable of holding either 2 SLR mags, or 3 M16 mags at a push.
Ive had these made for the airsoft enthusiast in mind, so if your looking for a SBS Falklands impression especially for with the 30th anniv next year, these are a must!
Chest Rig 1

Chest Rig 2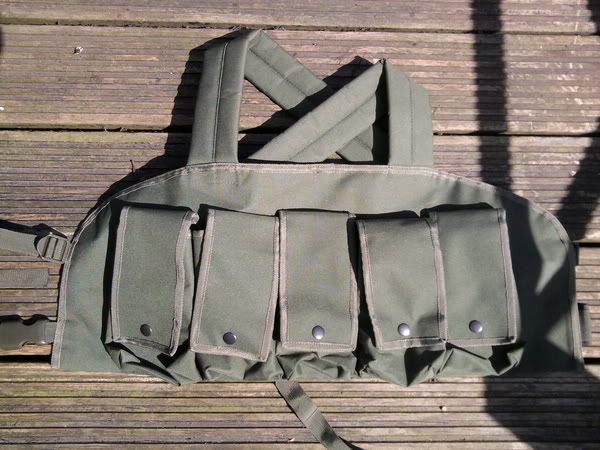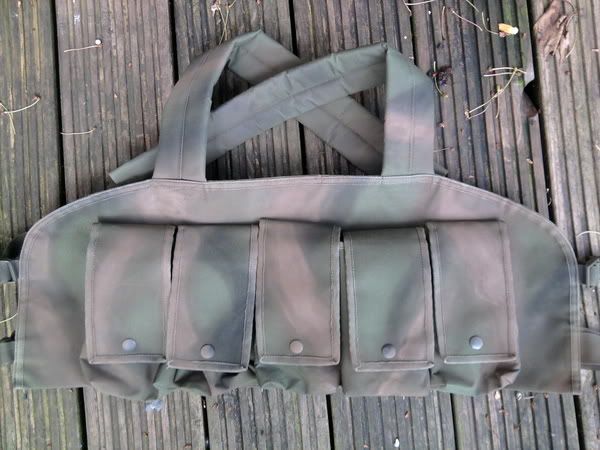 Cam'd up as in the book
These chest rigs are samples, im waiting to have the 1st batch made, so if youre interested pm me & let me know (or if youre looking for more info) & ill tell you when they are being made & being delivered to me.
overseas interest please contact me for p&p
Cheers!