Hi all.
This being my first post, I feel I should explain.
I was a member on ASCUK and attended Combat South on a regular basis. I decided a year or so a go to pack it in and sold off everything, apart from my beloved M4.
Unfortunately it is time I gave this much loved rifle a new home where it can fulfil it's destiny. Sob.
So for sale we have:
Make:
Gearbox unknown - a suspicion it may be systema, but cannot be guaranteed. Having said that, it is no cheap pap!
Receiver - G&P full metal "Fire Pig". This is brand new.
Front end: G&P shorty.
Grip - King Arms.
Stock - Unknown.
Flip up iron sights - King Arms.
Tightbore barrel - Madbull 6.03mm. Again, this is brand new.
Gun/Model: M4
Accessories: Can throw in five mid cap mags.
Condition: Used, but cared for. Apart from the stock, which has a dirty great crack across the top.
FPS: 350fps.
Splits/Swaps/Part Exchange: I will start splitting it in about a months time if no sale made and interest registered.
Price: I am looking for around £300, which includes the mags, the gun bag, a Webtex DPM chest rig, postage, and any other Airsoft related stuff I see laying around.
Payment: Personal cheque, Paypal or cash on collection.
Postage: I can post any way a buyer would like. Best would be collection / local delivery. I live in Portsmouth.
Pictures: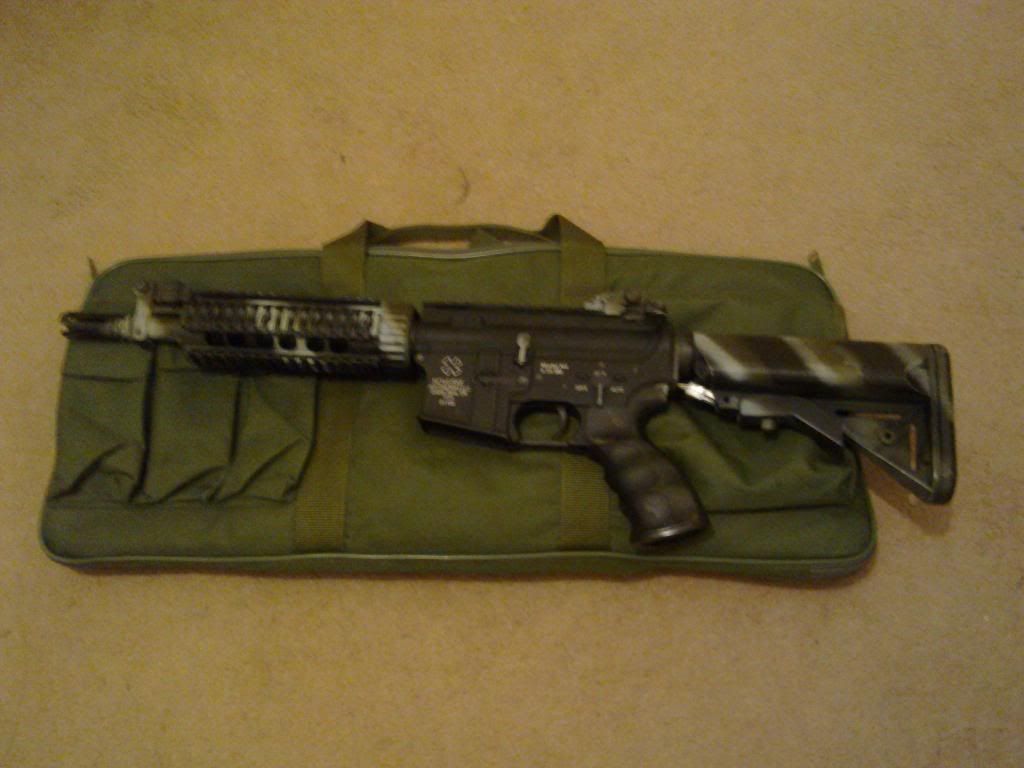 [IMG]http://i223.photobucket.com/albums/dd165/daemore/Image0019.jpg[/IMG
[img]http://i223.photobucket.com/albums/dd165/daemore/Image0017-1.jpg[/img]
[img]http://i223.photobucket.com/albums/dd165/daemore/Image0018.jpg[/img]
Any questions, please feel free to ask.