This is a review i did on my TM MEU that i bought last year - it was my first review
Real steel info
The real MEU(SOC) pistol, officially designated Pistol, Caliber .45, MEU(SOC), is an air-cooled, magazine-fed, recoil-operated, single-action, semi-automatic handgun chambered for the .45 ACP cartridge. It is based on the original M1911 design by John Browning, and has been the standard-issue side arm for the Force Recon Element of the United States Marine Corps' Marine Expeditionary Units from 1985 to today. Its National Stock Number is 1005-01-370-7353. MEU(SOC) is short for Marine Expeditionary Unit (Special Operations Capable)
The full Wikipedia article can be read
here
The GBB Pistol
Like their earlier 1911A1 release, TM have gone to town on the packaging and its a thing of beauty. The box has a USMC styled look to it, with various stamps and info and a desert MARPAT theme. Its really quite impressive.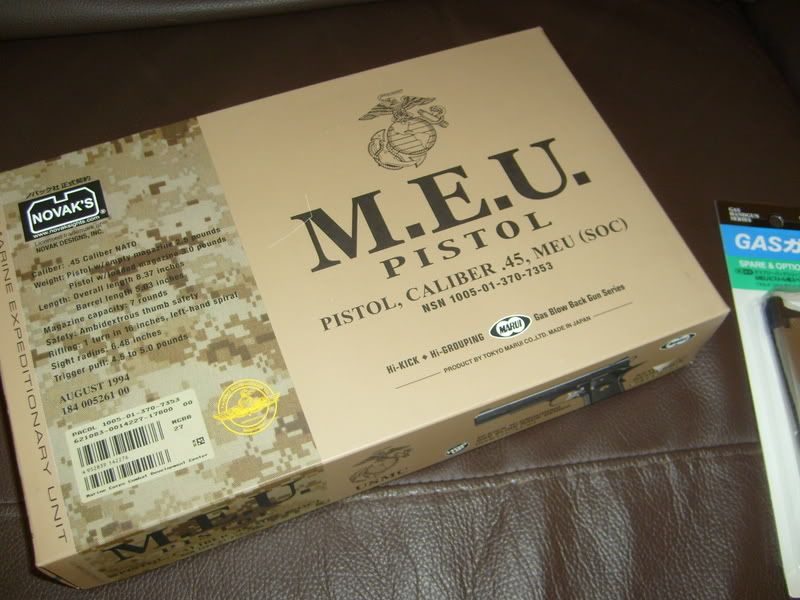 The inside is well presented, with a stiff foam packaging covered in a desert MARPAT style patterned fabric.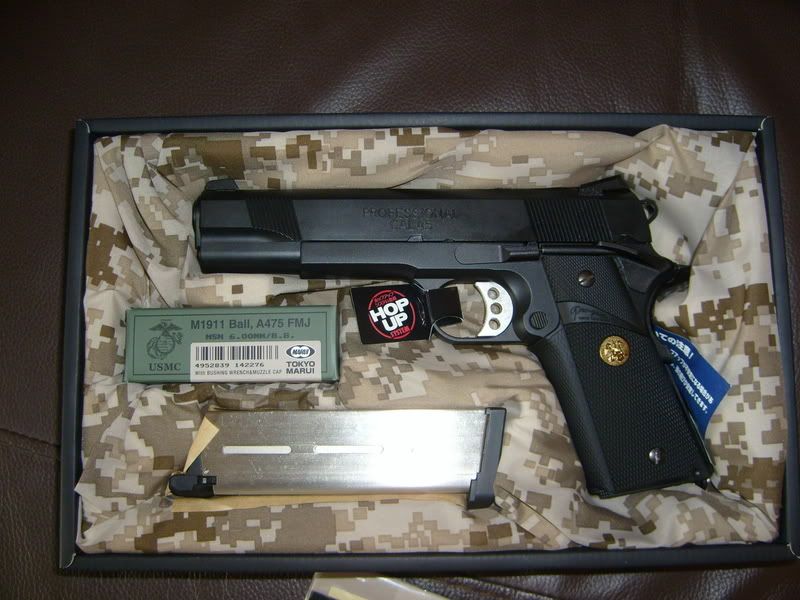 And the Pistol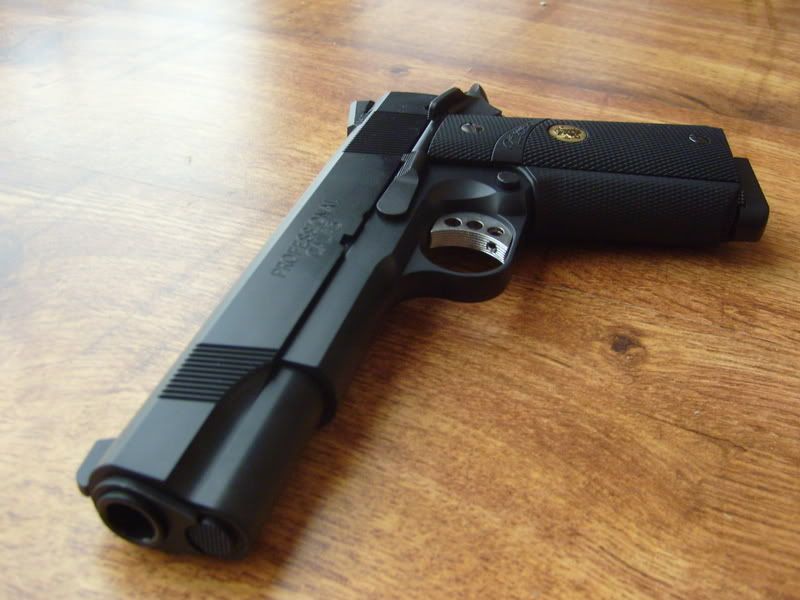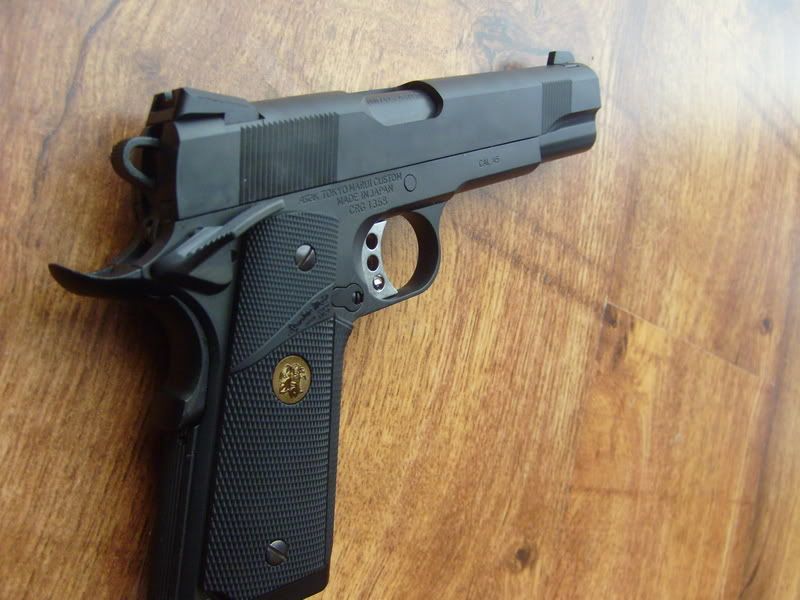 The MEU(SOC) has various features that set it apart from TM's previous 1911A1, such as 3-hole stainless aluminium trigger, rounded skeleton hammer, full beaver-tail, ambidextrous safety, Novak combat sights, angled front and rear cocking surfaces, and Pachmayr style 3 piece rubber like grips.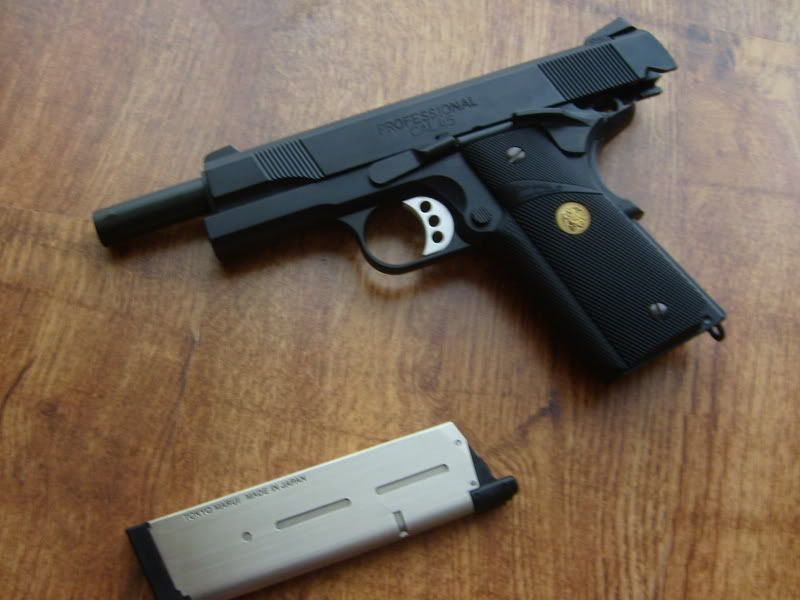 I'm led to believe (but not 100%) that this pistol uses the same internal system as the Hi-Cappa, making it capable of some serious power with a great blow-back unit giving some powerful recoil for added realism.
The Magazines feature a protective bumper on the bottom for protection, and thankfully TM have learned from the mistakes of other manufacturers by making sure you can still access the gas filling valve, without any kind of adapter needed.
The finish is excellent. There are no mould lines whatsoever on this pistol, and it looks very realistic, and despite its ABS slide it looks and feels metal. Its comfortable to hold and the weight is good, with the pistol sitting naturally in your grip when holding in the firing postion.
I chrono'd the gun and using Green gas, on a sunny-ish day, the results were: 327, 318, 323, 321, and 322 fps!
I realise using green may be dodgy, but i don't blat off a full mag in one go so hopefully i'll be ok.
The 1911 MEU has good range for a pistol, and seemed accurate enough to me, but I didn't bother to do a groupings test on a target.
I purchased this pistol plus an extra magazine from Elite Shooting centre in Bury, and I have to say the customer service and professionalism were second to none. Mike's prices are also very reasonble.
Overall I am seriously impressed by this pistol. I think this is set to be one of Tokyo Marui's most successful GBB pistols ever, so IMO you ought to add one to your collection!
Cheers